A natural amphitheater of a lush green, between the municipalities of Ischia and Casamicciola Terme, practically the same one that Baroness Maria Ursula von Stohrer fell in love with back in 1934.
Around the villa in Mediterranean style, which was completed in 1943, there are still land cultivated with vineyards and orchards, surrounded by "parracine" (dry stone walls made with the local volcanic stone: trachyte) that descend to the cliffs of the Bay .
Even the intervention aimed at enhancing the prodigious virtues of thermal water (already known in Roman times and mentioned in "De Remedi Naturali" by Giulio Iasolino) started by the Baroness and completed in the 1970s by her son Berthold was deeply respectful of environment, highlighting how "sustainable development" can be achieved allowing an increasingly loyal clientele and ever new friends to enjoy the gifts of Nature.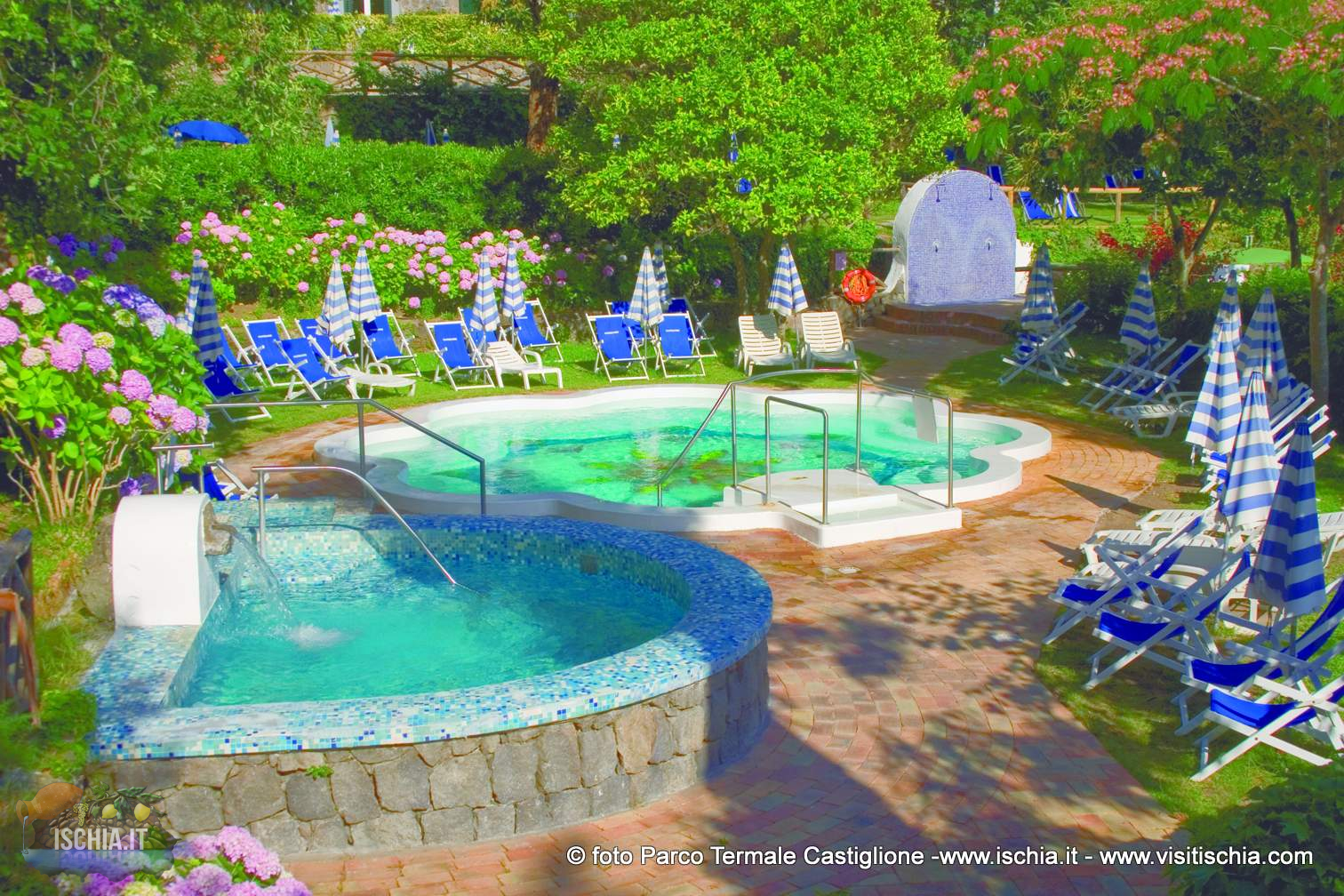 The Castiglione Thermal Park is not only a splendid hydrothermal complex, but it is a real sensory experience: starting with the small funicular that connects the entrance with the thermal departments and swimming pools; to the suggestive and secular pine trees that emanate an intense scent of resin and which contrast a wild Mediterranean vegetation dominated by chestnut and holm oaks, until they get lost in the dominant shade of the blue of the sea, while a multitude of birds cheers us with its song. lotus 40 cold kneipp pool
A stay in Ischia cannot be said to be complete without a visit to this earthly paradise, where the thermal and marine waters exert a wonderful synergy for our well-being.
In addition to the consolidated thermal tradition, the treatment department is able to satisfy any request that gravitates around the world of hydrology, aesthetics, dietetics and post-traumatic rehabilitation.
Thanks to the use of modern anti-stress therapies and psycho-somatic reorganization, a wide range of massages, water aerobics courses, the department has extended the opening period by offering a healthy diversion even in the coldest months.
The Castiglione Thermal Park is an island of peace and serenity, full of flowers and subtropical flowering trees of all kinds, which the Baroness personally brought from all over the world. In the pools she offers visitors the "Castiglione Thermal Water" with its multiple beneficial effects for human health, facilitating the recreation of the body and spirit.§
The complex has 10 thermal water pools with variable temperatures between 30 ° and 40 ° C (fed by hyperthermal springs), an Olympic swimming pool fed with sea water, 2 natural saunas, a gym, a modern mud-balneotherapy center. (agreement with the S.S.N.), 2 restaurants, a boutique, a small private beach and a pier equipped to meet the needs of a very diverse public.